Todd Klein (Former DC Letterer): I was hired by DC in the summer of 1977. I had come in with a portfolio looking for comics art work, and it wasn't deemed good enough by then art director Vince Colletta (he was right), but he brought me in to see Jack Adler…..
Thomas Sciacca: Vince got me a job as Stan Lee's assistant..then brought me to DC as his assistant when he was art director..I am eternally grateful to him…
Proudfoot: I mean you can't say he did almost nothing as art director then a second later he discovered THE Frank Miller. Come on guys.
Michael Netzer (Former DC Artist): From my experience with him, Vince Colletta was a talented and kind art director, which I saw as a rare combination in comics. He gets a bad rap because he rushed his work. But he was instrumental in keeping the comics train running on time. He was given assignments that no other artist could finish by the deadline. His run on Thor, that some pros don't like because he hacked Kirby's pencils, gave the character an ancient mythical feel that no other books had. He inked several of my books and I've never regretted it.
Bob (The Kid) Downs (Former DC Inker): So, that's how I came to work for Vinnie and I assisted him for 4 years, and I learned a lot and developed a very fast approach, after all I was working with Vince Colletta – it was either learn how to work quickly or lose my opportunity to work with the Art Director of D.C. Comics, and my favorite inker.
Rich Buckler (Former DC Artist): My time at D.C. comics when Vince Colletta was the Art Director was a very positive experience. He sort of looked out for me, even loaned me money when things were tight, and he gave me a lot of guidance that helped my career.
Mike Vosburg (Former DC Artist): When I first started working in comics Vinnie was the art director at DC comics. I thought Vinnie had the ability to ink the rankest amateur and lift them up to the level of solid professionalism. If I was running a comic book company, Vinnie would have been the first guy I would have hired, because he met deadlines and his work was always that of a seasoned pro.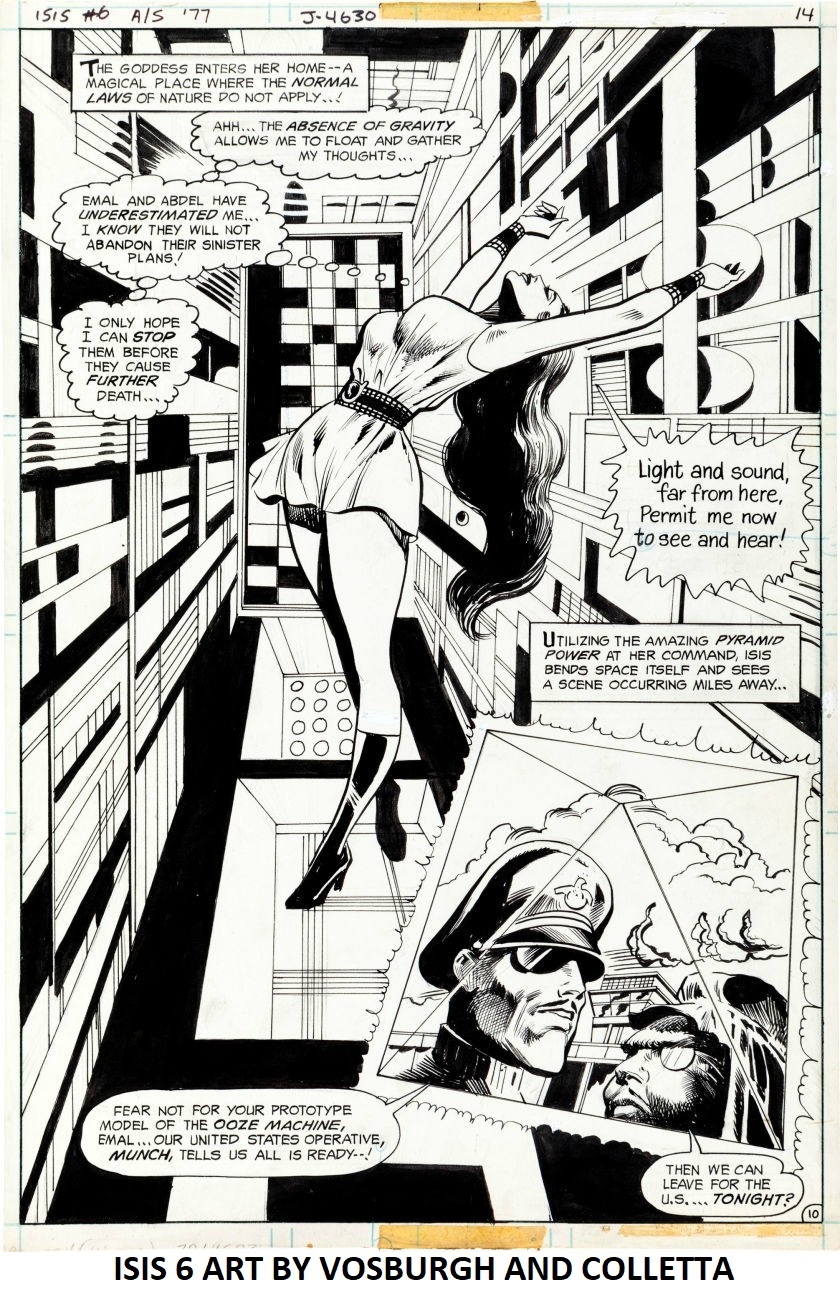 Chester Brown (Former DC Artist): I graduated, and I figured, "The only thing I want to do is draw comics, so I'd better go down to New York and try and break in."
Scott Grammel (The Comics Journal): What was their reaction? Did you talk to anyone?
Brown: Not at Marvel. At Marvel you left the portfolio overnight and they looked at it — or maybe they didn't look at it. You came in the next day and they said, "No." But at DC I got to talk to Vince Colletta, and he was quite encouraging.
Grammel: Was he the art director at that time?
Brown: At DC, yeah.
Grammel: What kind of advice did he give?
Brown: Well, he didn't look at the stuff that I wanted him to look at. He didn't look at my portfolio of all these well-drawn devils and stuff. He picked up my sketchbook and flipped through it instead. I don't know why I had my sketchbook with me, but I didn't want him to look through it, but he did anyway. There actually were some pictures of superheroes in there. Captain America, probably Batman and Superman, and stuff like that. So, he went over those, and took out some tracing paper and drew over the figures, and showed me the way that they should have been drawn. Actually, took quite a bit of time with me, explaining the mistakes I was making, and what I should do to improve, and told me to keep with it and come back in a year or so.
Grammel: Sounds very encouraging. Sounds like he was a nice man.
Brown: He was very encouraging and very nice. It made me feel kind of funny because I'd hated his work for so long, but in person he was very nice.
Tony Isabella (Former DC Comics Writer): I always got along well with Vinnie on a personal level, though I didn't much like the way the art director position he held at DC was set up. I wanted to deal with artists directly and not have to discuss scripts through Vinnie. It's one of the major reasons I left staff after six months. I do know he saved Marvel a lot of late fees by taking on late books and getting them in on time. Yes, the art suffered, but it wasn't Vinnie who turned in late scripts. In fact, it always bugged me that some of the writers who were furthest behind on their deadlines were some of the most vocal complainers.
Jim Shooter (Former Marvel Editor-In-Chief): Frank (Miller) was a kid from Vermont who wanted to be a comics artist. He came to New York in 1977, I think, showed samples to his idol, Neal Adams, and got a world-record savage critique. He quit drawing for a while, sucked it up and tried again. Neal savaged him again, but this time he sought a second opinion and actually ended up getting a small job from Western Publishing, I think. Thus emboldened, he went to DC, and after getting savaged by Joe Orlando, got in to see art director Vinnie Colletta, who recognized talent and arranged for him to get a one-page war comic job.
Wikipedia: It was DC Comics art director and inker Vince Colletta who brought George Tuska on board as the penciler for this series (World's Greatest Superheroes). The two men had collaborated many times in the past. Colletta valued Tuska's clean lines and felt that his style would enhance the look of the newspaper strip.
Terry Austin (Former DC Inker): Vinnie Colletta was the art director and fairly supportive but we always ended up getting sent in to Joe Orlando who didn't like the stuff. Joe was one of the overseers at DC editorial. Vinnie was the art director and, as I recall, in these scrapes-and we had them regularly-Vinnie was always on our side. "Give these kids a chance."
Rich Buckler: Those days at D.C. were auspicious times and very exciting for me. As D.C.'s art director Vince was always one of my main boosters and he practically adopted me. He was dynamic, straight-talking, a good teacher, a tremendously prolific and vibrant talent and a good friend. He was a rarity in the "business-first" world–a straight-shooter who always–always! –championed other artists.
Jim Shooter: At DC, he served as art director for a time, but mostly what he did was ink. On his way out of the office many an evening, then-traffic manager Paul Levitz would slide a stack of pages under Vince's door with a note on them saying "need by tomorrow," and Vince would stay all night and finish them.
Rich Buckler: It was around 1976 that I came under the wing of D.C.'s art director Vince Colletta. By way of a footnote, let me mention that I never have understood fully the controversy over Vince's inking on Jack Kirby at D.C. I loved that stuff. Maybe I just wasn't privy to the background details, or the politics involved, or whatever. It was my understanding then that Vince was one of Jack Kirby's favorite inkers.
The Nostalgia League: It seems that for many years, Colletta had been the inker who Marvel or DC would go to if they had a very short deadline. The pages I, and others, had so reviled over the years were the result of deadline crunches. Colletta was known to turn out completed books virtually overnight, so the deadlines on the comics could be met. The lack of detail, in many instances, was simply a way to get the finished product to the printer on time. DC understood this and, by appointing him art director, made sure that he would be available to handle all the deadline crunches they could throw at him. As proof of this, my source related that it was a regular thing at the DC offices to arrive at work in the morning to find Colletta asleep on the couch in his office and a stack of finished pages sitting on his drawing board; another all-nighter behind him.
Michael Netzer: Vinnie was a very helpful art director at DC. He always took time to engage artists about their work and help them approach it more professionally. For all that's said about him, he was very suitable for that position and elevated the art craftsmanship at DC during his tenure. He was also a very nice guy who helped artists move ahead in their career. It was Vinnie who once suggested to me that I come up with a new female character because DC was looking for one – and that's how the idea for Ms. Mystic was born. On the one hand, it's unfortunate that an unflattering reputation stuck to him. On the other, this has spawned a new look at his work since his passing away, and has raised a strong voice of admiration and support for him in fandom. That's certainly better than if no one cared about it one way or the other.
Kid Colt: I read two recent interviews of talented men named Marshall Rogers and Terry Austin, who said how great an art director Vinnie was because he spotted their talent, worked with them, and helped them get work from some of the old school editors who didn't want the new kids around. This revised my whole thinking on Colletta. I'll be the first to say he wasn't my favorite inker, but it sounds like as an art director he had a hand in dragging DC back into competition again, and mentoring some young talent.
Nick Caputo: I believe George Tuska had a few nice things to say about Vinnie, and Marshall Rogers spoke well of him in a recent interview. Rogers got his first job at DC because of Vinnie, who was art director at the time.
Joe Staton (Former DC Artist): And then-this is funny-Joe Orlando took me off to a conference room. Vinnie Colletta was supposed to be the Art Director at the time. As far as I could tell, all he did was sit up at DC and ink. But Joe yelled over at Vinnie and said, "Hey, Vinnie. You're the Art Director. You come be a part of this. We're designing something." So Vinnie followed Joe and me in, and Vinnie stretched out on the couch and went sound asleep. [laughs] And then Joe and I had a really nice session, and he took my sketches and punched them up a little bit. I think Joe was the one who actually came up with The Huntress' emblem. But it was pretty much what I started out with, with some improvements by Joe, and we had a very nice time. Then Joe went over and touched Vinnie and said, "Time to go, Vinnie. Meeting's over." [laughs] And Vinnie says, "Okay," and he went back to work, inking in his room.