Some say that glamorous women have the appearance of enhanced attractiveness. In real life this could refer to makeup, a hairstyle and, of course, manner of dress. Creating this look on paper, in a one-dimensional format, requires an artist to craft that allure into his subject. Vince Colletta had a facility for drawing women of such outstanding beauty. He's now recognized as the most prolific, if not the finest of the romance artists.
Purchase the eBook Edition of NUDES – THE ART OF VINCE COLLETTA here.
Jose Garcia-Lopez was an inventive penciler with whom Vinnie collaborated on many covers and stories, most notably Wonder Woman and Batgirl. The dilemma facing the inker on the cover of Wonder Woman 234 was how to impart cover girl glamor to an unconscious, partially-submerged female about to be shot by a Nazi. She looks at peace and somehow radiant despite her dire situation. Colletta brought out Diana's natural loveliness in the midst of a chaotic scene.
It doesn't get any more atmospheric than the scene depicted on the cover of Secret Story 14 where Colletta visualized a sensational setting using atrium windows overlooking a dramatic city skyline. The room is filled with all manner of paint brushes, canvases and It almost feels as if the central characters, an artist and his female student, just happen to be in the shot. She is wearing a simple collared shirt, rolled-up blue jeans and a pony tail, none of which say "glamor" but then you notice that she's also wearing a pearl necklace. Of course! She's a cover girl.
Various artists including Russ Heath, Al Hartley, Joe Maneely, Carl Burgos and Bill Everett took turns drawing Lorna. The similarity of their graphic-style efforts depict her as cartoonish. In the cover art of Lorna the Jungle Girl 13, there are hundreds of minute pen lines in the shadows and stripes of Lorna's top alone. Vince Colletta's aim was physical attractiveness and with the Lorna covers he hit his target each time. Even as the jungle girl is hearing the Tom-Toms of danger, her appearance seems as if she just came from the make-up trailer. The juxtaposition of glamour over grit made the cover more appealing.
The voluptuous redhead in the clingy yellow dress fits perfectly into the carnival scene. She's quite noticeable as strolls down the boardwalk, Kewpie doll in hand with an admiring man at her side. Vinnie was a master of illustrating clothing. He had a facility for rendering the natural way garments hang, the folds, creases and shadows necessary to impart a 3-D look onto a flat piece of paper. Everyone is watching her and she knows it.
Against a grainy background of menacing warriors, Starfire stands strong, hair all blown out in an outfit that would make any man do a double-take. All around are the skulls of those she has defeated as she defiantly poses, sword in hands, before the next mortal challenge arrives just behind her. DC went out on a limb allowing Vosburg and Colletta to create a larger-than-life heroine who could rival Wonder Woman's beauty and Amazonian power. Slick inks on her hair and boots accompanied the focus Vinnie put on Starfire's well-endowed figure. Her gaze is penetrating and somewhat intimidating but she is glamorous nonetheless.
The cover I chose for Vinnie's Wikipedia page is an illustrative masterpiece, drawn during simpler times when deadlines weren't an issue. Colletta was able to use his inks to create an extraordinarily lifelike image. The viewer is drawn to the girl's lips as she prepares to find out whether a girl can really find love at first kiss.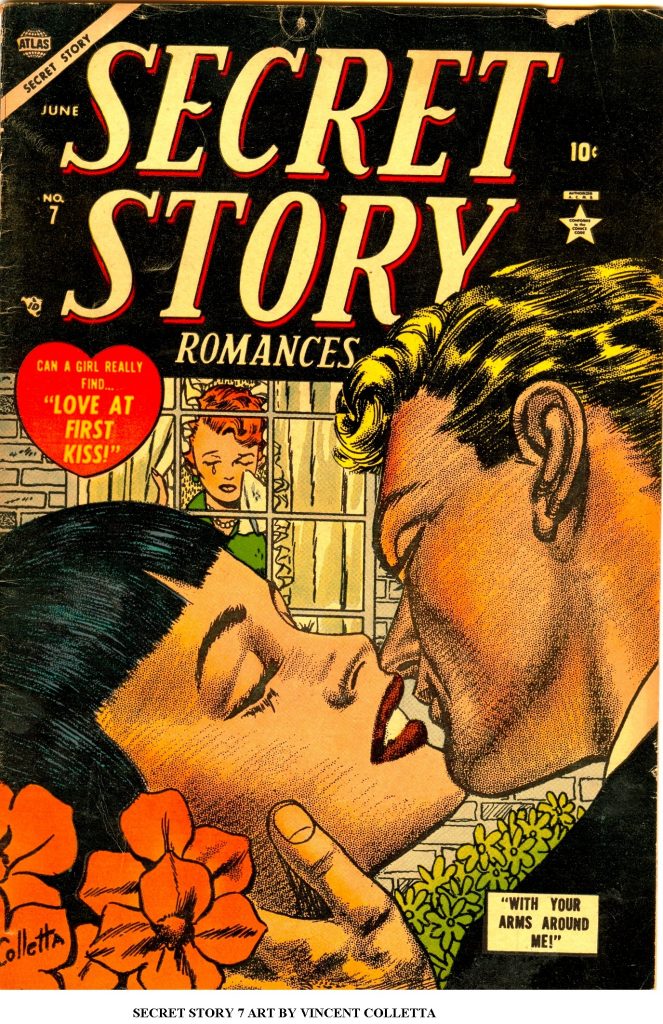 And a "Happy Ending" for this article is the cover of My Own Romance 43 which shows an incredibly exhilarating embrace. Once again the fine-line inks impart a timeless, illustrative look in their skin, their clothing and, in particular, the girl's hair. The art expresses the brand values of the title. This cover girl brightens up people's lives. If there were a singular standard of female beauty, Vincent Colletta may have come closest to understanding how to portray it.